Before you dig, drill, cut, core, or excavate, you need to know what's in the earth. In Atlanta and the surrounding areas, SitRep Services is your trusted source for private utility locating, ground-penetrating radar, concrete scanning, and ground fault locating.
How SitRep Helps Commercial Clients Dig, Cut, Core, Drill & Excavate Confidently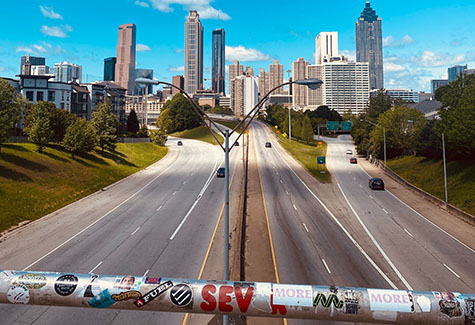 If there's one thing you can count on in Atlanta, it's that things are continuously changing. This is the nature of a developing area. Athens, Birmingham, Greenville, and every other southern metropolis and town are in the same boat. You need to know what's in the ground before you start any project, whether you're constructing a shopping center, renovating a downtown block, or just expanding your business's campus.
Depending on the size and location of your property, you may already know there is a maze of various utilities and other obstructions that keep your facility functioning. Steam plants, gas lines, electrical for parking lot lights, private communication, network chases, etc. None of these things are marked by the 811 call-before-you-dig services.
What Do We Find Under the Surface for Commercial Clients?
Ground-penetrating radar may detect a variety of objects that other services would miss, including:
Pipes and lines that were previously unknown
Sinkhole-producing voids
Graves that are unmarked
Rebar and other structural materials
Buries are made up of a variety of materials.
Septic tanks
SitRep Services for Commercial Digging
SitRep Services saves time and money for individuals and businesses by offering prompt, dependable, and vital private utility locating services for clients who want to properly cut, core, drill, and dig.
Our finding services use top-of-the-line radio detection and Ground Penetrating Radar (GPR) equipment to locate, identify, and label the location and, in some cases, the depth of potential obstructions that might slow down the digging/drilling process, cause damage, and raise total expenses. Under the earth or in concrete, we locate and designate utility lines, pipes, voids, tanks, and other impediments.
SitRep's Process
Our process is simple:
Step 1: Make An Appointment
Step 2: We'll Find The Obstacles
Step 3: You Dig With Confidence
Schedule SitRep Today
If you have a commercial digging project in the Atlanta area, we are here to help. We also serve clients in Birmingham, Greenville, and the Upstate of South Carolina and beyond. We are your trusted source for digging confidently. Schedule your scan today!