You need to know what's in the ground before you dig, drill, cut, core, or excavate. SitRep Services is your go-to for private utility locating, ground-penetrating radar, concrete scanning, and ground fault locating in Atlanta and surrounding areas.
How SitRep Helps Residential Clients Dig, Cut, Core, Drill & Excavate Confidently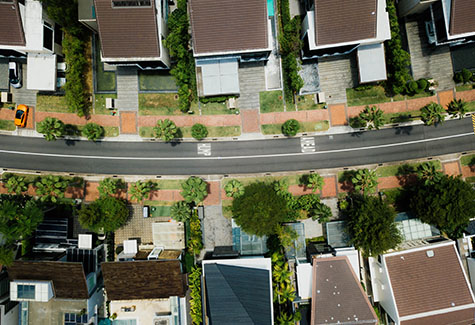 If anything is true in the Atlanta area, it's that something is always changing. That is the nature of a growing region. The same is true for Athens, Birmingham, Greenville, and every other southern city and town. Whether you are a contractor building a neighborhood, renovating a home, or just making changes on your property, you need to know what is in the ground before you start your project. 
Just call 811, right? That's not going to provide the comprehensive information you need. The 811 service notifies public utilities to mark their own service lines from "meter to main," but that is not likely all the information you need to complete your project safely.
SitRep Private Utility/UST Locating Services employs cutting-edge technologies and state-of-the-art ground-penetrating-radar equipment to locate items that radio detection alone is unable to find. Furthermore, GPR allows us to determine the depth of your obstructions; something radio-detection is unable to do.
What Do We Find Under the Surface?
There are many things ground-penetrating radar can locate that other services might not find, including:
Previously unknown pipes and lines
Voids that could lead to sinkholes
Unmarked graves
Rebar and structural items
All sorts of buries materials
Septic systems
Can SitRep Find My Septic Tank?
Many of our residential clients ask us if we can help them find their septic tanks. Absolutely, our ground-penetrating radar can be used to locate your septic tank. Whether you are building a new fence, building an outbuilding, or your system requires maintenance, there are many reasons you may need to locate your septic system. We can help.
Call SitRep Before You Start Your Project
There are a number of residential projects for which you might need GPR, concrete scanning, utility locating, and more.
You are building a new home
You are building an addition to your home
You are adding a road to your property
You are installing a fence
You are waterproofing your basement or crawlspace
You are performing repairs to your foundation
You are installing a new septic tank or plumbing
Our multifaceted Underground Survey Services are carefully designed to meet all your underground information requirements. No matter how complex your projects are, you can trust our top-notch crew with underground surveying technology and equipment to identify and map underground assets.
If you have a residential project that requires digging, contact SitRep for fast, efficient, effective services in Atlanta and as far away as Upstate South Carolina, Birmingham, and beyond.