The city of Atlanta is one of the most metropolitan and international cities in the South. The metro area is home to over six million residents, making it the eighth-most populated urban area in the United States. The region continues to grow rapidly, often adding over a million new people per decade. What is it that brings people to central Georgia? We couldn't possibly capture all the reasons in a single article: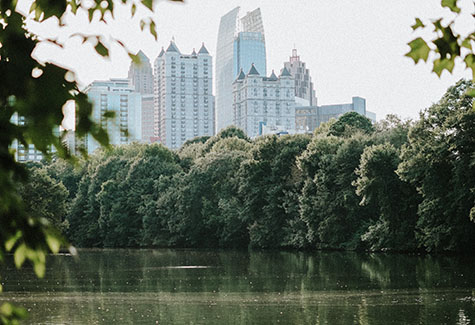 People come to Atlanta to work. We are home to amazing companies who provide the region with fantastic careers.
People come for access to great educational institutions like the Georgia Institute of Technology and Georgia State University.
Residents enjoy access to cultural amenities like the Georgia World Congress Center, Georgia Aquarium, High Museum of Art, World of Coca-Cola, and countless other museums and art galleries.
Atlanta is home to numerous famous restaurants and entertainment venues.
People can cheer for storied professional sports franchises like the Atlanta Hawks, Atlanta Falcons, Atlanta FC, and the Atlanta Braves.
Although it is among the largest southern cities, Atlanta residents have numerous parks, greenways, and outdoor amenities. The city is less than two hours from the Blue Ridge Mountains of North Georgia.
Whatever it is that brought you and/or your company to Atlanta if you are expanding or making changes to your property that involve digging, drilling, coring, or cutting, you need to know what's in the ground. SitRep Services is based in Atlanta and here to help you know exactly what you're getting into before you start your project.
Utility Locating Services in Atlanta, GA
SitRep Private Utility/UST Locating Services uses cutting-edge technology and state-of-the-art ground-penetrating-radar devices to find items that radio detection alone can't locate. Furthermore, GPR allows us to estimate the depth of your barriers, which is impossible with radio detection.
Why You Need SitRep's Utility Locating Services
The last thing you want to cut a line while you're renovating your home or expanding your commercial facilities. That's where SitRep comes in. The 811 service notifies public utilities to mark their own service lines from "meter to main", but that is not likely all the information you need to complete your project safely.
You need to know what's in the ground before you start any project, whether you're building a shopping mall, rebuilding a city block, expanding your company's campus, building an addition, installing a fence, or any project that has you breaking the ground. If you hit a water main, cable, wire, or other subterranean objects by accident, it can cause costly and time-consuming delays, perhaps delaying your entire project.
To identify and find subsurface impediments, don't rely on the often ineffective eye inspection and record searching procedures. From Atlanta to Birmingham, and Greenville to Tennessee, SitRep serves clients. Within Atlanta and the neighboring suburbs, we reply fast, usually within one to three days. To schedule your scan, please contact us right away.