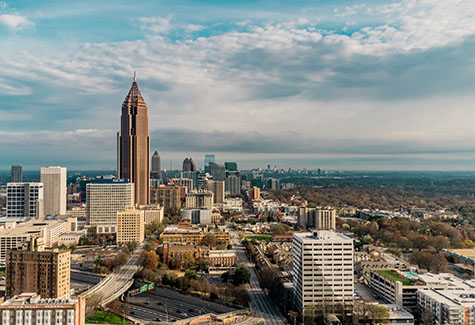 One of the most multicultural and urban cities in the South would be Atlanta. The metro area is the sixth most populous in the nation, with a population of around six million. With more than a million additional citizens adding to the area every ten years, it is still rapidly growing.
Buckhead is one of the most elegant residential streets in the Atlanta Metro. Lined with beautiful trees and remarkable architecture, including the famous Swan House, Buckhead is known for its luxury. At the heart of Buckhead is Lenox. Peachtree and Piedmont Roads.
At the center of that intersection, there is a phenomenal shopping district with more than 1500 retail units. Over $3 billion a year gets spent in this retail zone alone, and it has the highest concentration of upscale boutiques in all of the United States.
Buckhead Theater can also be found in the neighborhood of Buckhead. Once known as the Coca-Cola Roxy Theatre, Buckhead Theater has been everything from a second-run movie theater, a civic meeting space, and a famous music venue.
Utility Locating in Buckhead – Atlanta GA
If you are planning a residential or commercial project in Buckhead and need to break ground, then you must locate any underground utilities. SitRep services can provide solutions for private utility locating, ground-penetrating radar, concrete scanning, and ground fault locating.
Safely Digging in Buckhead – Atlanta GA
SitRep Private Utility/UST Locating Services uses cutting-edge technology and state-of-the-art ground-penetrating radar to help clients discover what is below the ground surface. The depth of your barriers may also be estimated using GPR, which is not achievable with radio detection.
Why You Need SitRep's Utility Locating Services in Buckhead
Cutting a line is the last thing you want to do while remodeling your house or expanding your business. In this case, SitRep comes to the rescue. The 811 service notifies public utilities to identify their service lines from "meter to main," but you'll likely need more information to complete your job safely.
Knowing what's under the ground is essential before beginning any project, whether it is the construction of a shopping center, the reconstruction of a city block, the expansion of your company's campus, the addition of a building, or the installation of a fence, or anything else.
Accidental contact with a water main, cable, wire or other subsurface items can result in costly and time-consuming delays, sometimes causing your entire project to be delayed.
To detect and discover underground obstructions, don't rely on a simple look-over of the property and record searching techniques. From Atlanta to Birmingham and Greenville to Tennessee, SitRep is the go-to for utility locating. Within Atlanta and the neighboring suburbs, we react fast, often within one to three days. Please contact us as soon as possible to book your scan.