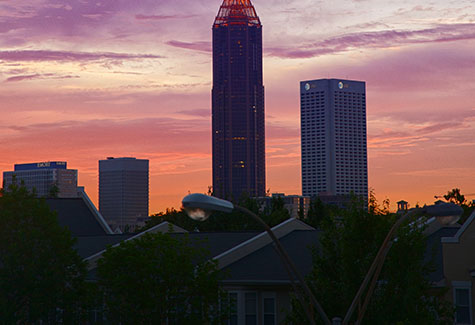 Ten miles northwest of downtown Atlanta lies the edge city of Cumberland, Georgia. Mostly known as a business district, Cumberland's office towers house over 122,000 workers and 103,000 residents. There is more office space than downtown Miami, and it is the fifth-largest commercial district in the Atlanta Metro.
While Cumberland is mostly a get things done town, it is also home to the Atlanta Braves, the Atlanta Opera, and the Atlanta Ballet. The Cobb Energy Performing Arts Center is a massive performance venue that has been operating as a world-class facility and creating cultural, educational, and entertainment experiences.
Also home to the Cumberland area is the Cochran Shoals park and trails. The trails run along the Chattahoochee River, and draw crowds of runners, hikers, and mountain bikers.
Regardless of what brought you and/or your business to Cumberland, if you want to expand or make modifications to your property that involve digging, drilling, coring, or cutting, you need to be aware of what's underground. Before you start your assignment, SitRep Services, situated in Atlanta, is here to help you understand exactly what you're getting into.
Utility Locating Services in Cumberland, GA
SitRep Private Utility/UST Locating Services uses cutting-edge technology and state-of-the-art ground-penetrating-radar devices to find items that radio detection alone can't locate. Furthermore, GPR allows us to estimate the depth of your barriers, which is impossible with radio detection.
Why You Need SitRep's Utility Locating Services in Cumberland GA
Crossing an underground utility line is the last thing you want to do while remodeling your house or expanding your business. Although public utilities are advised to find their service lines from "meter to main" by the 811 services, you'll probably need more information to complete your assignment correctly.
You must be aware of what is already there before starting any project, whether it be the building of a shopping center, the reconstruction of a city block, the expansion of your company's campus, the building of an addition, the installation of a fence, or any other project that requires you to break ground.
Accidentally running into a water main, cable, wire, or other subterranean objects can cause costly and lengthy delays, perhaps resulting in your entire project being delayed.
For locating and identifying subterranean obstacles, use more than simply a visual assessment of the land and document searching techniques. From Atlanta to Birmingham to Greenville to Tennessee, SitRep is here to serve. Within Atlanta and the neighboring suburbs, we reply fast, typically within one to three days. Contact us today to book your appointment.