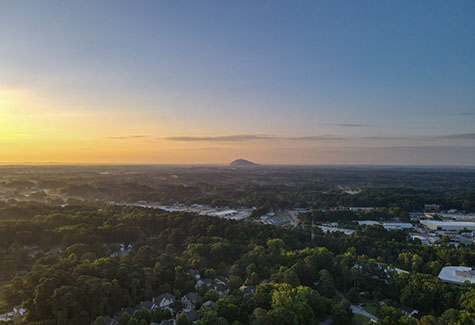 Like many other places around Atlanta, the utility lines of Stone Mountain Georgia have mostly moved underground alongside the sewers and gas lines. Once these lines moved below ground, service reliability largely improved. However, this move has introduced a complex web of new challenges.
No longer can a homeowner, construction company, or utility company just dig wherever they please, as they could hit a line and interrupt service. The only way to safely move forward with any project that has to do with breaking ground is by utilizing a utility locating service.
Utility Locating Stone Mountain, GA
As the town of Stone Mountain grows and modernizes, it is important that when breaking ground you know exactly what is going on underneath the surface of where you are working. Preliminary utility location must be done ahead of time and calling 811 isn't going to cut it. SitRep Services is here to help and can provide solutions for a variety of possible issues including:
Private Utility Locating
Concrete Scanning
Subsurface Mapping
Underground Service Detection
Ground Penetrating Radar
And More!
Dig Safely in Stone Mountain, GA
SitRep Private Utility/UST Locating Services uses cutting-edge technology and state-of-the-art ground-penetrating radar to help clients discover utilities and other things that may be below the ground. In addition to that, the depths of any barriers can be estimated using GPR.
Not only is ground penetrating radar more accurate, but it is also way safer than exploratory digging. Long gone are the days of probing the ground and potentially damaging utility lines such as underground cables and gas lines. GPR can determine the precise position of just about anything that can affect construction without scratching the surface.
Choose SitRep Services for Your Utility Locating in Stone Mountain
We are all aware of the risks involved with crossing an underground gas or electric line, to be honest. It might be costly and dangerous in some circumstances. Just imagine an excavator slamming into a sewage line or utility cables.
All of this can be prevented by calling SitRep Services. Public utilities are notified to identify their service lines from "meter to main" by the 811 services, but you'll probably need further details to do your digging properly.
Understanding what is beneath the ground is essential before beginning any project, be it the construction of a retail mall, an extension to a home, or anything else. Accidental contact with a subsurface item, such as a cable, wire, or water main, can cause expensive and time-consuming delays, which typically cause the entire project to be delayed.
Save time and money by hiring SitRep Solutions today! We are the source for locating utilities in Stone Mountain GA, as well as the rest of the Atlanta metro area. Within Atlanta and the neighboring suburbs, we reply fast, typically within one to three days. To schedule your scan, please get in touch with us today.
.